Welcome
Mount Carmel Kindergarten provides pre-school education for children in the two years prior to starting primary school.read more
Most children join us in the term after their second birthday. Parents can choose between term time or full year attendance or a combination of the two.
Our uniquely planned environment and challenging curriculum provides children with the bridge between a home or day care setting and school equipping children with the skills and attitudes needed to make a successful transition into reception class.
Both our schools are situated 200 metres apart in leafy Sandpit Lane, St Albans. Kinder Lodge is a spacious Norwegian Log cabin, set within the playing fields next to the Oaklands Grange Development. Sandpit House is a bespoke homestyle setting close to the Wick nature reserve.
Mount Carmel is very highly regarded in the local community and is one of St Albans most recommended nursery schools. Part of our success is that we value parents as the primary educators of their children and work closely together to ensure the best possible outcomes for every child.
We also have an excellent reputation among both private and state primary schools in preparing children well for the next stage of their educational journey.
You are most welcome to visit us to discover for yourself why Mount Carmel Kindergarten has been loved by families since 1985.
Contact us on 01727 838480 or email info@mount-carmel.co.uk
Locations
Kinder Lodge
Kinder Lodge was opened in 2000 in the outstanding greenbelt surroundings of Verulam Playing Fields, next to the Oaklands Grange development. &n...read more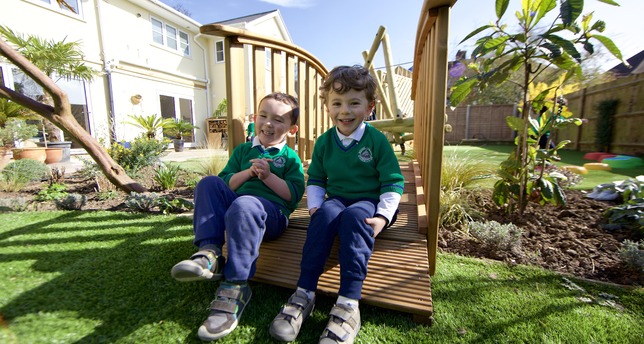 Sandpit House
Inspired by Italian design, our Sandpit House setting offers a homely environment set on two levels. It comprises of four distinct learnin...read more
What our parents say
Kinder Lodge
★★★★★
A wonderful nursery with staff who are warm, engaging and nurturing. My son has progressed already since starting in September. I wouldn't hesitate in recommending this kindergarten.
★★★★★
Mount Carmel is a wonderful nurturing place. Highly recommend.
Wonderful teachers and cannot fault a thing.
★★★★★
Very nurturing and caring environment. Professional and appropriate. My little one is very happy here.
Read All Testimonials
Sandpit House
★★★★★
We are extremely pleased with Mount Carmel across the board. The communication is great, our son is looking forward to going every day. They provide a great environment to play and learn in, with the perfect balance of being friendly while remaining strict on core values.
★★★★★
We love it, my son loves it everytime he goes.
Friendly staff. My son has learnt so much since he joined - songs. words etc.
★★★★★
The indoor and outdoor spaces are great, enough activities to keep the children entertained while learning. The staff is very supportive. Thank you for taking such good care of our child, she looks happy so we are happy.
Read All Testimonials
Choosing a St Albans Nursery
Childcare for your little one is an important decision, whether you are considering a St Albans Nursery, Childminder or Nanny. Day nurseries are a childcare centres where the staff care for children through their early years, up until the age of four or five. It's a crucial time in a child's formative years, and the experiences children have at nursery school may surely affect how they approach their time at school and the experiences they have there.
As a parent, it's best to visit a handful of different nurseries in St Albans in order to find one which you and your child are happy and comfortable with. Many people are searching for a nursery near me and personal recommendation is always a good sign. The best nurseries will be recommended to you by other parents, so it's always good to ask around for some opinions and feedback.
To find a review on a St Albans Nursery, visit Day Nurseries website for parents reviews.
Your own first impressions are important too. Do you feel the nursery has a warm and welcoming atmosphere? Do the children look happy and fully-occupied? Is it clean and safe, does it have good resources?
We pride ourselves on being one of the best nurseries in St Albans. An outstanding provider of day care, we're dedicated to ensuring your child is happy while in our care.