Welcome
Mount Carmel Kindergarten is the first step on your child's educational journey. It is the bridge between home/daycare and formal schooling at age 5. We firmly believe that happy children make successful learners, so we provide a nurturing environment that incorporates a balance of structure and exploration. The nursery was established in St Albans in 1985 and has developed a unique approach to early years education. read more
Our curriculum is balanced so that children are familiar with structure and routine but are still offered plenty of opportunities for play, activity, and exploration. By providing children with a stimulating, positive, encouraging, safe, and friendly environment then they will feel confident in their ability to explore new things, interact, socialise, and learn through new activities and experiences.
We are well regarded within the local community and are the most recommended day nursery in St Albans. Part of our success lies in the fact that we value parents as the primary educators of their children and here, at Mount Carmel Kindergarten preschool, we work with each and every parent to ensure that we achieve the best possible outcomes for your child. Every child who comes though our door is treated as unique, and this means allowing each child to let his or her personality shine through and allowing them to develop at their own pace.
We are a Preschool in St Albans with an excellent reputation among both state and private schools in preparing children for the next key stage in their lives. For parents, the most important thing is being able to drop their child or children off at nursery with the peace of mind that their child will be well cared for.
Locations
Kinder Lodge
Private education for the Early Years. Preparing children for the transition to school by developing independence, confidence and a love f...read more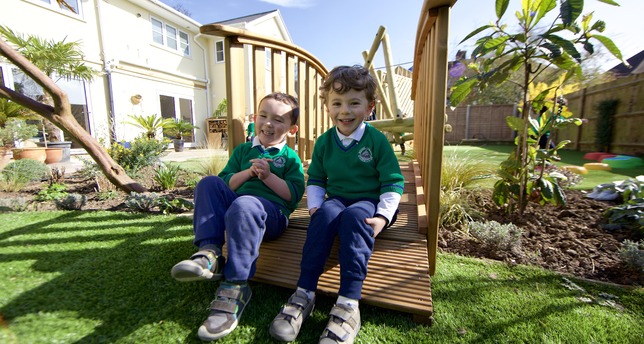 Sandpit House
Daycare with a difference! The convenience of full day attendance with a focus on school readiness: this is the perfect choice for parents looki...read more
What our parents say
Kinder Lodge
★★★★★
Mount Carmel provides a warm, friendly environment. It's a home from home. The carers offer a wide range of activities and prepare children well for starting school.
★★★★★
Fantastic nursery, superb organisation and delightful staff.
★★★★★
Feel so lucky to have our son at Mount Carmel. Our son absolutely loves it at MCK. Amazing nursery all around!
Read All Testimonials
Sandpit House
★★★★★
We are extremely happy - love Mount Carmel, very professional, great with children and loved the Nativity. Love the new centre, Sandpit House. The Family App is great. A wonderful community.
★★★★★
Extremely pleased! Very happy with everything so far. Lovely team, and very good and caring teachers.
★★★★★
We love it, my son loves it everytime he goes.
Friendly staff. My son has learnt so much since he joined - songs. words etc.
Read All Testimonials
Choosing a St Albans Nursery
Childcare for your little one is an important decision, whether you are considering a St Albans Nursery, Childminder or Nanny. Day nurseries are a childcare centres where the staff care for children through their early years, up until the age of four or five. It's a crucial time in a child's formative years, and the experiences children have at nursery school may surely affect how they approach their time at school and the experiences they have there.
As a parent, it's best to visit a handful of different nurseries in St Albans in order to find one which you and your child are happy and comfortable with. Many people are searching for a nursery near me and personal recommendation is always a good sign. The best nurseries will be recommended to you by other parents, so it's always good to ask around for some opinions and feedback.
To find a review on a St Albans Nursery, visit Day Nurseries website for parents reviews.
Your own first impressions are important too. Do you feel the nursery has a warm and welcoming atmosphere? Do the children look happy and fully-occupied? Is it clean and safe, does it have good resources?
We pride ourselves on being one of the best nurseries in St Albans. An outstanding provider of day care, we're dedicated to ensuring your child is happy while in our care.