Mount Carmel Kindergarten - Kinder Lodge, 100A Sandpit Ln, St Albans AL4 0BX
About Kinder Lodge
Kinder Lodge was opened in 2000 in the outstanding greenbelt surroundings of Verulam Playing Fields, next to the Oaklands Grange development. Our purpose built Norwegian Log cabin was inspired by fairy tales as we wanted somewhere magical and inspiring for children to learn. read more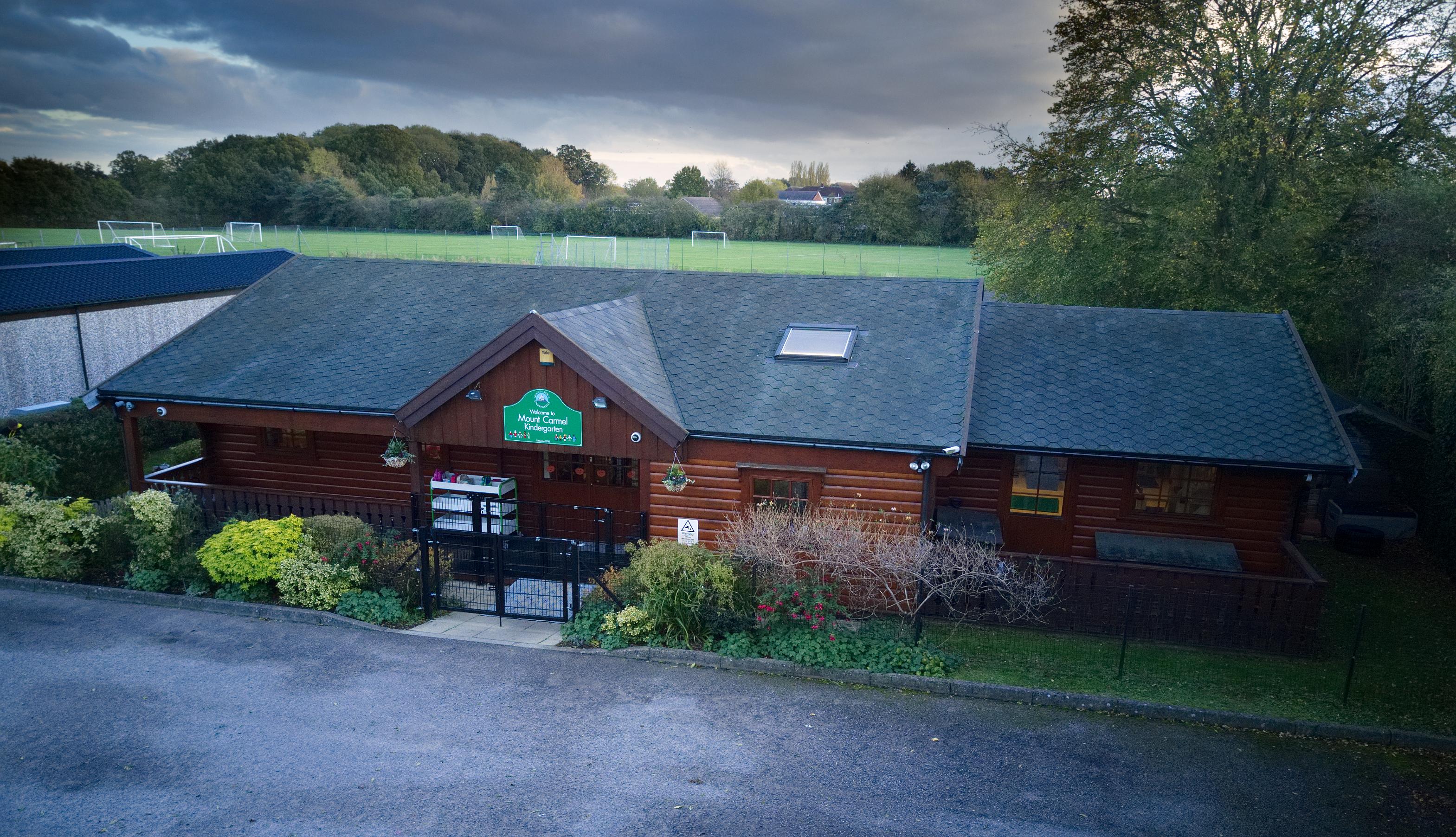 It is divided into four learning areas and has a large garden. In addition to our nursery facilities we have exclusive use of the field and woodland area for county walks and sports activities. The site benefits from a large car park for parent parking.
Click on the links below to discover more about what happens during a typical day at Kinder Lodge together with information about admissions, fees and opening hours.
Are you looking for a children's nursery in Harpenden or Wheathampsted? Many of our families travel from outside of the St Albans area to attend our nursery school because of our unique approach, flexible attendance and outstanding facilities.
Every parent wants their child to have the best possible start in life and the best experiences before they head off to primary school. Those formative years when a child attends day care are vital in the early development of a child. If those years are care free but structured, happy and productive years then a child is more likely to enjoy and excel at school.
Providing daycare provision for children aged 2-5 years old, the happiness and development of your child is our key concern, which is why we've created a friendly, happy and creative environment in which each individual child can flourish.
If you're looking for a children's nursery in Wheathampsted, Harpenden or the surrounding areas then look to Mount Carmel Kindergarten. Based in St Albans, our nursery will offer everything you've been looking for in a pre-school education and day care centre.
What we offer
Opening Hours
Opening Hours :
Monday to Friday - 8.00am to 5.00pm
Sessions:
8.00am - 9.00am - Breakfast club
9.00am - 5.00pm - Full day session
Children attend between three to five sessions per week during the term time. We run an optional holiday club, exclusively for children at Mount Carmel Kindergarten. Parents can book the holiday club on an ad hoc basis or as part of their child's yearly plan.
Note, the nursery school is closed on Bank Holidays.
Term Dates
Autumn Term 2023
Wednesday 6th September to Tuesday 19h December
October Half Term Holiday Club - Monday 23rd October to Friday 27th October
Christmas Holiday Club - Wednesday 20th December to Friday 22nd December & Wednesday 3rd January to Thursday 4th January
Spring Term 2024
Friday 5th January to Thursday 28th March
February Half Term Holiday Club – Monday 19th February to Friday 23rd February
Easter Holiday Club - Tuesday 2nd April to Friday 5th April & Monday 8th April to Friday 12th April
Summer Term 2024
Monday 15th April to Friday 19th July
May Half Term Holiday Club – Tuesday 28th May to Friday 31th May
Summer Holiday Club - Monday 5th August to Friday 30th August