Mount Carmel Kindergarten is not like other nursery schools. Our early years practice is based on years of experience, fine tuning what works to get the best from all children. We are the bridge between home/daycare and formal schooling at age 5. We provide a nurturing environment incorporating a balance of structure and exploration, believing that happy children make successful learners. This page will explain how the nursery is organised, detail our approach to Early Years education and showcase the outstanding facilities we have on offer.
Groups
Children join the nursery school in the September following their 2nd birthday. They are grouped into classes with other children in the same academic year and stay in these small groups until they leave for Primary School.
Each class is lead by an experienced Early Years Practitioner who is supported by an Nursery Teaching Assistant. There will be up to 12 children in the class during the session.
This approach offers children consistency and helps them build relationships with their peers and teachers. It also facilitates effective communication between the parents and teacher, as parents know exactly who is responsible for their child's learning and development at the nursery.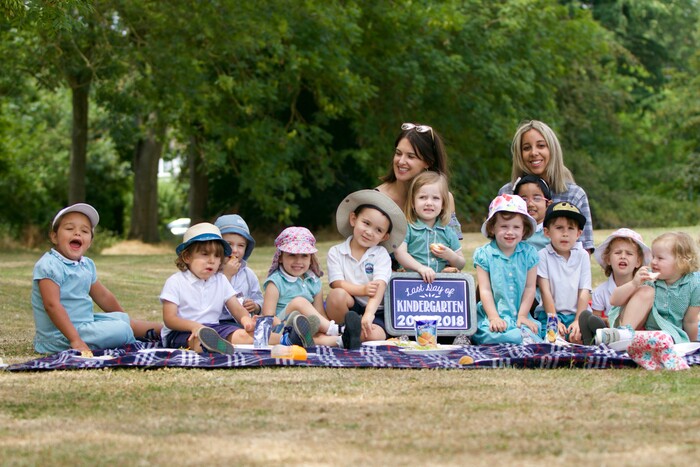 Approach
We have developed our own unique "carousel" approach to Early Years teaching which enables children to learn in small groups and experience a broad range of learning opportunities in every session.
Each group rotates between the four distinct activity rooms, each focusing on particular area of learning. Children spend around 40 minutes in each room where they are free to choose between a range of child and teacher led activities. They stay with their group and the same teaching staff for the whole session.
Our approach draws inspiration from established Early Years theorists such as John Bowlby, Maria Montessori and Reggio Emilia and focuses on equipping children with the skills, attitude and confidence to be successful learners at Primary School.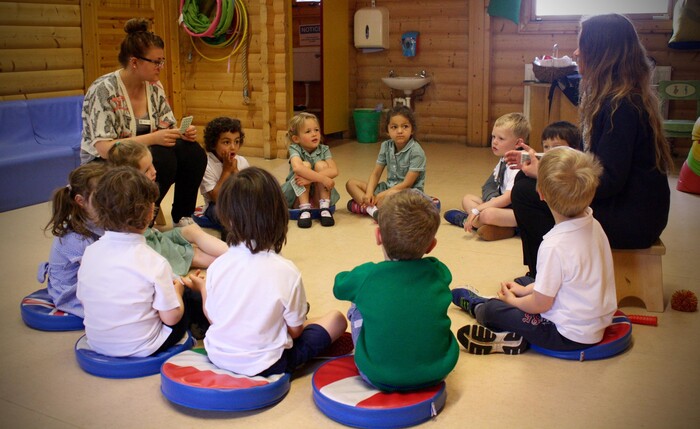 Testimonial
Facilities
A unique feature of our nursery school is that throughout the day each group of children will circulate between the rooms, providing them with a broad range of learning opportunities. Read on below to find out about which area of learning each room focuses on.
The Art Room
The art room is all about developing the children's fine motor skills and creative expression. In this room, the children choose from a range of activities such as mark making, cookery, threading and sewing, modelling, scissor skills, painting and using tools. Many activities are planned around a chosen theme, such as "The Night Sky", "Stories old and New" and "Transport". Take a look at our weekly blog to find out more about our recent topics.
The room is set out with four tables with a different activity on each table. Children are encouraged to choose what they want to do and move freely between the tables. One table has an adult led activity, such as cooking, to provide additional support and learning opportunities. In the warmer months, the learning extends into the garden for outside painting activities and water-play.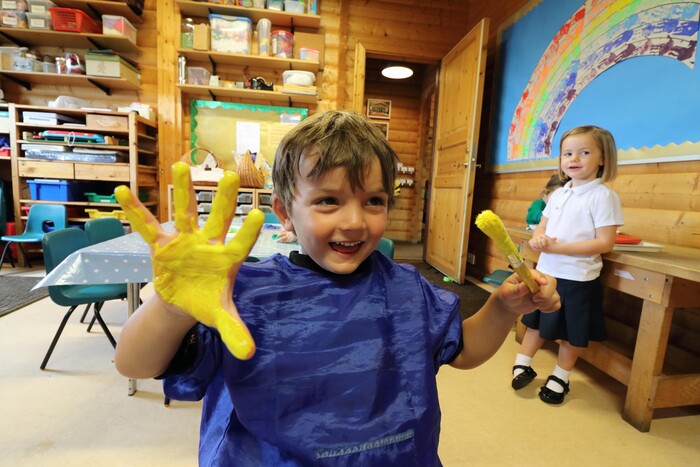 The Gym
The gym is our largest room, which is used to promote physical development and gross motor skills. The children take part in activities such as dancing, ball skills, musical instruments and gymnastics. The space is also used for large apparatus including climbing frames, balancing beams and stepping stones.
Whole school assemblies take place daily in the gym when children sing together and take part in performances.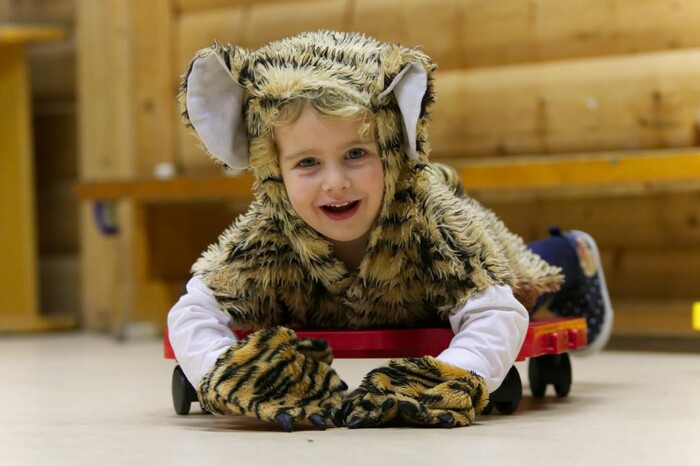 The Classroom
The classroom aims to promote children's thinking skills and problem solving. The room is arranged with tables, between which children can move freely, choosing from a range of puzzles, construction and games to promote their skills. Children are free to work individually or with their friends and learn to work alongside other children.
There is an adult led activity focusing on phonics, maths and handwriting, using games and practical tasks. Crucially, these aim to develop the right attitude needed for learning at Primary school
Tables are removed for younger children and replaced with rugs to facilitate floor play.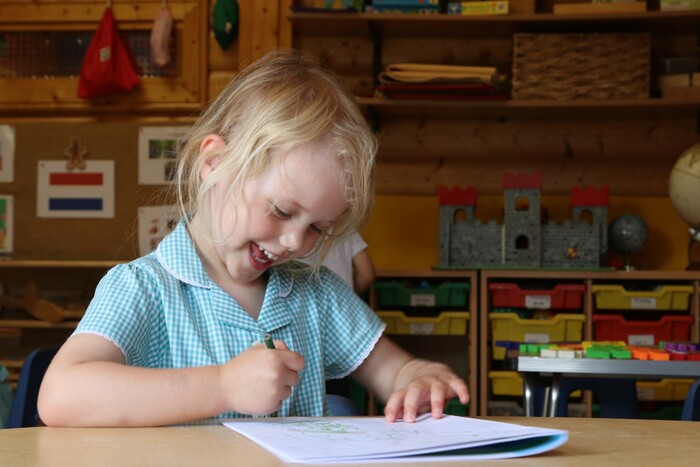 The Library
Our library boasts a large selection of children's books for story telling and fact finding. In here, we aim to develop a love of literature through group stories and one to one reading.
This room also provides the children with a calm learning environment in which they can develop their imagination through pretend play, build friendships and learn negotiation skills.
Staff are actively involved in the children's play, finding the balance between direct involvement and quiet observation to properly understand the learning needs of each child.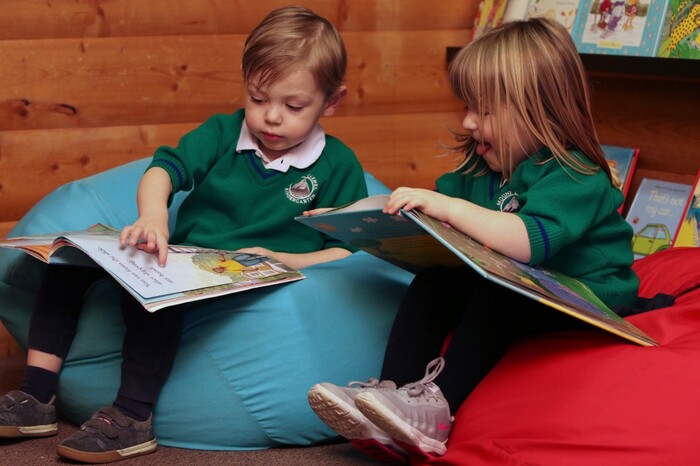 The Garden
Our garden is our biggest learning environment and facilitates risk taking, social skills, physical development and most importantly, fun!
We recognise the importance of outside play in early child development and children are encouraged to play outside during every session.
There is an all-weather artificial play lawn which is used throughout the year, equipped with climbing frames, childrens cottage and a large range of outside play equipment.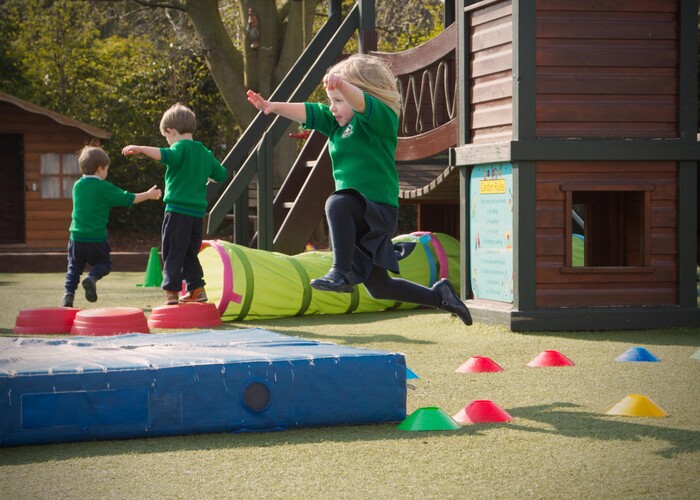 Outdoor Space
Both Sandpit House and Kinder Lodge are situated within walking distance to local outdoor spaces including The Wick Local Nature Reserve and Verulam Playing Fields.
These locations allow us to take the children on weekly excursions for a range of outdoor learning activities.
We firmly believe that there is no such thing as bad weather, just bad clothing!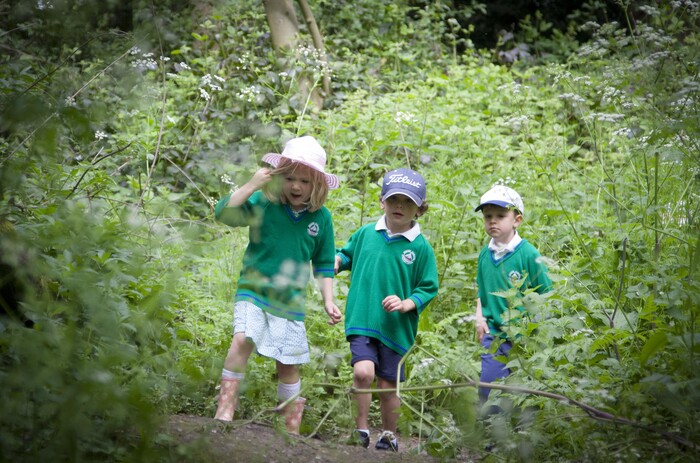 ---
Find out more
Please explore our website to find out more about Mount Carmel Kindergarten.