Mud pies
Earlier this term we trialled a mud kitchen in the garden, allowing the children to cook up a range of delicacies using pots, pans and other utensils with mud as the main ingredient. Whilst some children loved this activity, we noticed that a many of the didn't actually want to play with the mud and it was also extremely messy for those that did. From this we developed a sand kitchen which has all the benefits but has proven to be a better material for the children to work with. The children can play for longer and can dip in and out as they please as they don't need to wear aprons with the sand. The sand kitchen has been open since the beginning of this week and has been firm favourite amongst the children.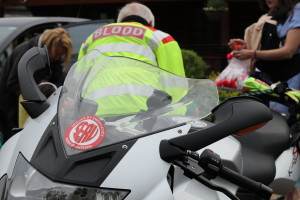 In the week before half term we were visited by Dave; the coolest grandpa the nursery has ever seen! Donning his leather trousers and hi-viz jacket he came to talk to the children about his role as a Bloodrunner. The SERV Herts & Beds Bloodrunners are a charity organisation that provide emergency courier services transporting blood products, breastmilk and other patient essential items for the major hospitals and hospices in Hertfordshire outside normal working hours. The volunteers provide their services free of charge including fuel and phone expenses which consequently saves the NHS thousands of pounds per year. Dave brought in his motorcycle which he uses to make the deliveries as well as a mini moto decorated in the blood runners red and yellow livery. He talked to the children about motorbikes showing them the different parts that make it go and stop and about the special clothes he wears to keep him safe. After all the children got to sit on the bikes and ask any questions.
In our side garden the children have been helping look after our strawberry plants by watering and weeding them. Over the coming weeks we will be creating a bug hotel and wormery. We also want children to be able to examine slugs and snails that they have found in the garden and are looking for an old fish tank for them to put them in to look at. If anyone has an unwanted fish tank taking up space in your loft and that you would like to donate please get in touch.
Our new theme is places and if you are from another country we would love it if you could come in and do an assembly about your home with your child. Also, if you are going away this half term please bring back a postcard, photo or leaflet for a display in the nursery.
Next week we will be kick starting our Mary's Meals Backpack Appeal. This is the fifth year that we are taking part in this very worthwhile appeal which involves filling a child's backpack with the basic thing things they need for school. Not only does this project benefit so many under privileged children across the world but it also helps our own children learn what it means to think about other people and try to help them. Parents will receive a letter next week explaining what they need to do to join in with this campaign.
The sound of the week will be "Z"